JSCB "ASIA ALLIANCE BANK" reports that the mini bank "Dunyo" is now located at a new address: Tashkent, Mirzo-Ulugbek district, Buyuk Ipak Yuli massif (former C-1), 26 The mini bank has a very convenient location, in the very center of Tashkent, not far from the school number 64, the music college (the old building of the Conservatory).
Wide, bright room, with a spacious cozy waiting hall, friendly, competent staff will provide mini bank visitors with comfort and high level professional service. Qualified staff of mini bank "Dunyo" consult on all banking issues, as well as provide all types of banking services. Businessmen and private entrepreneurs are guaranteed a high-quality account service at the best rates and lending services for expanding the activities of enterprises, modernization and creation new industries.
For individuals staff of "Dunyo" mini bank will help to promptly effect money transfers across the globe, to issue a plastic card, both in national and in foreign currencies, to conduct utilities fees and other payments. In addition, mini bank can issue educational, and consumer loans, in particular: for purchase of new household appliances, furniture, expensive treatment, travel or celebrations, etc. You can also get microloans (not more than 20 270 000 soums) in cash and non-cash form. Moreover, a mini-bank "Dunyo" can issue car loans on very favorable terms.
The priorities of the mini-bank is the quality of the service provided in combination with an individual and flexible approach to each client.
For more information, please call +99871 236-03-18.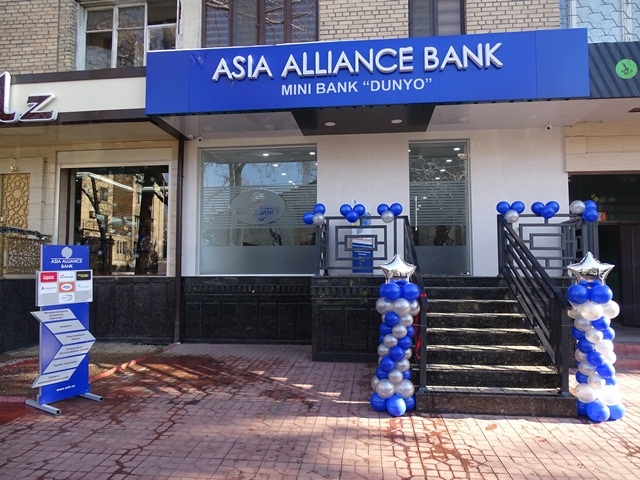 Author:

не указано

Source: Press Centre JSCB «ASIA ALLIANCE BANK»
Views: 857