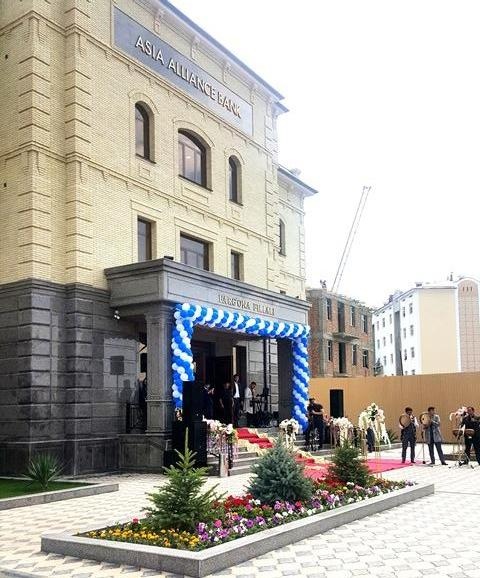 April 10, 2019, in one of the central and densely populated areas of the city of Fergana, the Fergana branch opened its doors for its customers. Conveniently located branch building, comfortable conditions, a large covered parking lot will allow residents of Fergana and the region to take advantage of a wide range of banking services provided by both qualified specialists and remote service channels. So, Fergana branch specialists will be able to provide consulting services, open and maintain accounts of bank customers, make money transfers, consumer lending to individuals, and also finance projects of entrepreneurs of the Fergana region at their own expense and foreign funds of credit lines. Everyone will be able to open UzCard payment system, and international plastic cards VISA and UnionPay.
It should be noted that in the near future it will be possible to open international MasterCard plastic cards in every subdivision of ASIA ALLIANCE BANK, including the new Fergana branch. In addition, the Bank's clients are offered time and savings deposits in national and foreign currencies on favorable terms, which are accepted both in cash and non-cash.
In order to offer the residents of Fergana a maximum of banking services that do not require visits to bank branches, a 24-hour pavilion is located next to the branch building, in which equipment is installed that allows for online self-service without help of bank employees. So, with the help of installed ATMs, it is possible to withdraw cash from soum and currency plastic cards and exchange foreign cash.
With the help of an automated deposit machine (ADM), it is possible to make online cash collection, repay loans and deposit soum plastic cards opened in the ASIA ALLIANCE BANK. For this, you just need to sign an agreement with ASIA ALLIANCE BANK. And modern information panels will allow you to connect or disconnect SMS informing, make payments and use the Internet banking system for corporate clients.
Operation time: from 9.00 to 18.00 from Monday to Friday.
Weekends: Saturday - Sunday.
Legal address: 150117, 4, Uzbekistan ovozi street , Fergana city, Republic of Uzbekistan,
Phone: (+998 73) 244-37-37
Author:

не указано

Source: Press Centre JSCB «ASIA ALLIANCE BANK»
Views: 1048