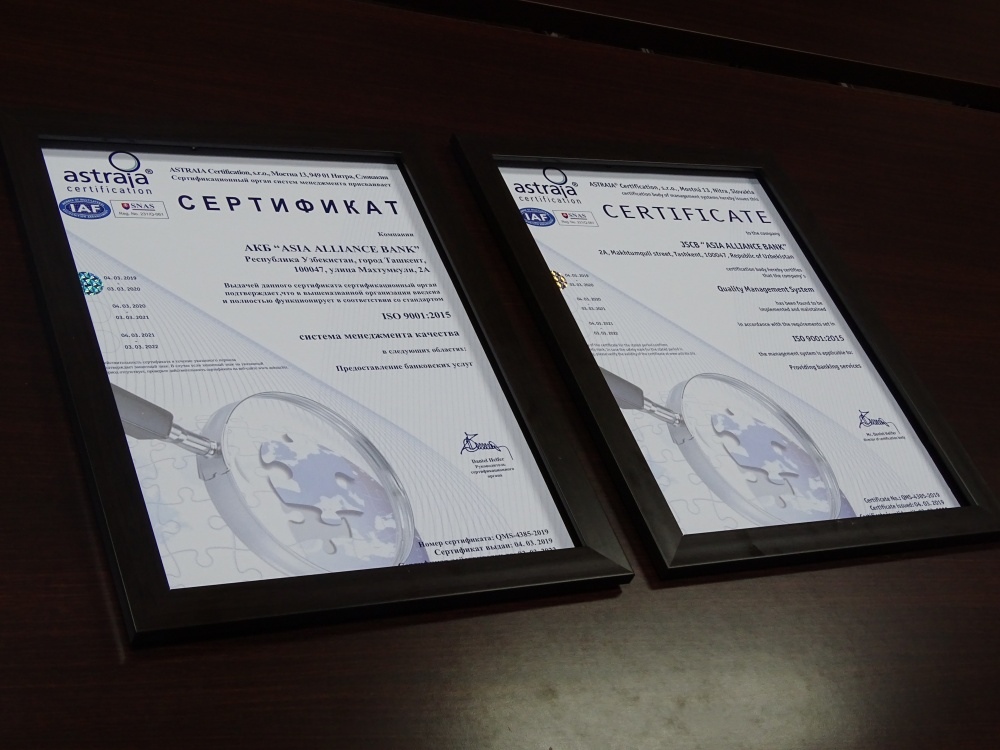 JSCB «ASIA ALLIANCE BANK» is certified with ISO 9001:2015 quality management system certificate, which is based on a number of quality management principles, such as customer orientation, top management motivation and involvement, process approach and continuous improvement.
The core objective of ISO 9001:2015 is to promote the application of the process approach for the development, adaption, implementation and continuous improvement of the effectiveness of the quality management system, as well as ensuring a high level of customer satisfaction through deeper analysis and implementation of its requirements.
Benefits from accomplishment of ISO 9001:2015 are the followings:
- a significant growth in customer confidence, thus, expanding the customer base,
- improving competitiveness and the possibilities of entering international markets;
- realization of the established goals, achievement of the pre-determined results;
- an increase of effectiveness of the banks' activity;
- guaranteed provision of all processes with necessary resources.
JSCB «ASIA ALLIANCE BANK» maintains continually the requirements of the standard, which in turn enhance the quality management system and customer satisfaction.
Author:

не указано

Source: Press Centre JSCB «ASIA ALLIANCE BANK»
Views: 2185