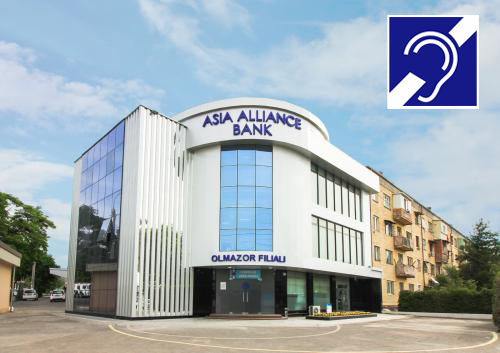 In the purpose of ensure accessibility of banking services to the general population, as well as to create the possibility of using banking services for people with hearing disabilities, JSCB ASIA ALLIANCE BANK, together with the Union of Veteran-Soldiers and Disabled People of Uzbekistan 'VETERAN', the first among banks of our Republic, took part in the 'Surdo-Online Uzbekistan' project and introduced a service for providing people with limited hearing through the 'Surdo-Online' system.
The 'Surdo-online' service was approved and successfully used in the Russian Federation, the Republic of Kazakhstan. According to the 'Surdo-online' service, a person with limited hearing who has applied to our bank can receive bank services by establishing remote video communication with sign language interpreters located in an organized special center.
Currently, the remote translation service of the 'Surdo-online' system is available at the Almazar branch of JSCB 'ASIA ALLIANCE BANK', located at: 13b, Northern Almazar str., Almazar dst., Tashkent.
Author:

не указано

Source: Press Centre JSCB «ASIA ALLIANCE BANK»
Views: 1149