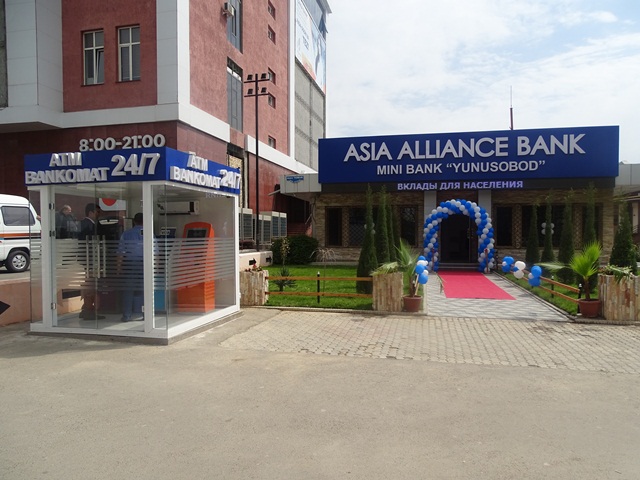 JSCB «ASIA ALLIANCE BANK» offers a wide range of services in the new Mini Bank «Yunusabad». The mini bank is located in one of the most densely populated residential areas in Tashkent, in the Yunusabad district, at the intersection of A. Timur, A. Donish and Muradov streets, next to the «Stroy Center» supermarket.
Staff of the «Yunusabad» mini bank will help to quickly transfer money to all places of the world, will help open a card, both in national and in foreign currency, pay utility bills and other payments. In addition, the new mini-bank clients will be able to issue a consumer loan for the purchase of household appliances, home furniture, building materials for repairs, as well as to pay for the journey trips, expensive treatment, and home celebrations. In addition, you can get a microloan in cash and non-cash form or arrange a car loan. An additional convenience is the 24/7 self-service pavilion located next to the mini-bank, which houses currency exchange and currency ATMs as well as an info kiosk.
The priorities of the mini-bank is the quality of the service provided in combination with an individual and flexible approach to each client.
Working hours of «Yunusabad» Mini Bank: from Monday to Friday from 9.00 to 18.00, without a lunch break. Tel: (99871) 225-29-20, (99871) 225-29-30
Author:

не указано

Source: Press Centre JSCB «ASIA ALLIANCE BANK»
Views: 996