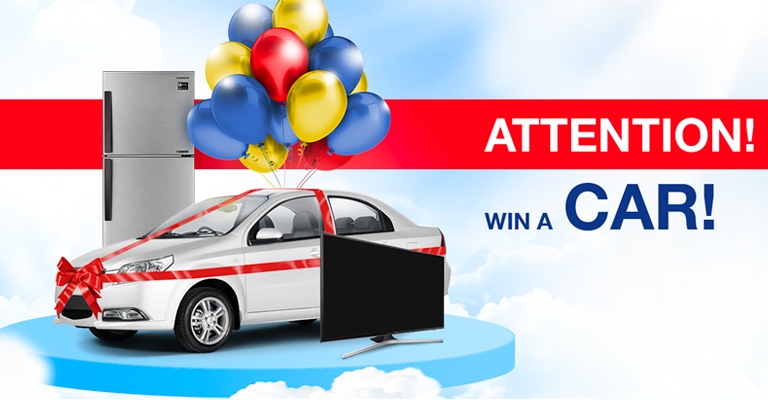 Dear clients!
In honor of 10th year of establishing of the JSCB "ASIA ALLIANCE BANK" announces Action with drawing of valuable prizes.
In order to become a participant it is necessary to carry out one of the following types of operations during the Action period for a total amount equivalent to at least 1,000,000 sums through the Bank's mobile application MyAlliance:
- Transaction from card to card;
- Payment for services;
- Online currency exchange;
- Opening a deposit;
- Transaction to the bank account;
- Payment of the loan.
The prize fund includes:
Main prize:
Cash in the amount equal to the cost of the car of model Nexia-3 AV-GS16 (second position of local complete).
Additional prizes:
- Refrigerator of the model SAMSUMG (1 pc)
- Television 43'' of the model SAMSUNG (1 pc)
- Smartphones of the mark Xiaomi Redmi 7 3/32 (10 pc)

The list of participants of the promotion is posted on the bank's website and is updated at least 2 times a month.
Period of Action from August 15, 2019 to November 30, 2019. Participants of MyAlliance can be holders of other bank cards.
The news of events can be observed on the official pages of the Bank:
Web-site - http://aab.uz/
Telegram - t.me/asiaalliancebank
Facebook - www.facebook.com/AsiaAllianceBank
Instagram - www.instagram.com/asia_alliance_bank
Details can be found in the Rules for the Action
*Participant of the Action cannot be workers/staff of the JSCB "ASIA ALLIANCE BANK".
Author:

не указано

Source: Press Centre JSCB «ASIA ALLIANCE BANK»
Views: 1727