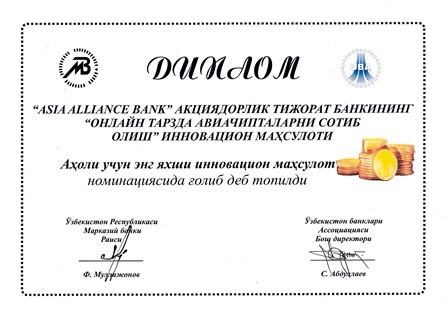 On January 30, 2016 the winners of the competition on attracting deposits among commercial banks of Uzbekistan for 2015 were awarded in a festive atmosphere at Uzbekistan Banking Association.
JSC «ASIA ALLIANCE BANK» won in the "The best innovative product for the population" award with the innovative product "Air ticket online purchase ".
For the first time in Uzbekistan banking market «ASIA ALLIANCE BANK» mutually with Uzbekistan Airways have developed and implemented the air ticket online booking and purchase system on Uzbekistan Airways website.
Since the beginning of 2016 UzCard holders have the opportunity to purchase around the clock ticket for domestic Uzbekistan Airways flights without a queue and visiting the ticket office.
To purchase the ticket card holder may just visit the website www.uzairways.com to choose the date and the flight direction, indicate the personal passenger data and to pay for the air ticket by UzCard EMV.
The advantages of the service are:
• Significant customer's time savings for purchase the ticket
• The system is open daily around the clock
• The system automatically checks all available flight options and availability of seats in real-time.
Author:

не указано

Source: Press Centre JSCB «ASIA ALLIANCE BANK»
Views: 367